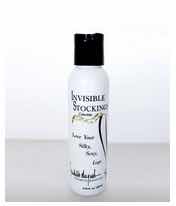 HATE NYLONS?… the tugging and bunching, the way they fall down, "just a bit" and hinder a long stride. Remember the last time you were "out on the town" and suddenly, a run!

Invisible Stockings™ to the rescue! This beautiful shimmering color tint gives every woman's legs the "sunkissed" stocking clad look without nylons, every season of the year.
Natural "Summer Bronze Tint" allows every skin tone to shimmer in the light

Great with short skirts & bathing suits.
Perfect on shoulders, décolletage, upper arms.
Diminishes small imperfections like spider veins and freckles.
Long lasting formula for morning into night wear.
Removes easily with soap and water or Killer Cleanser.
Includes free Buffing Pad.

Applies easily:

Use your fingers or the Judith August Swirly Brush
Great tip:

Diminish the look of larger imperfections such as Bruises, Birthmarks and Veins by simply drawing the lines away with the The Everything Pencil™; then apply Invisible Stockings for a smooth, summer bronze tint.
Special Offer:

Try Judith's Invisible Stockings Kit which includes Judith's Swirly Brush. Buy the Kit and Save!
Available Sizes: (click on size/price for details)