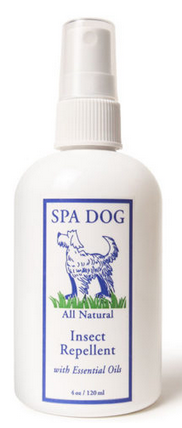 Spa dog insect repellent is DEET - free and made with only natural essential oil derived from herbs, plants and flowers.
We blend essential oils known to protect against mosquitos, ticks, and a variety of insects.
Made with several essential oils including:
citronella, Lemon, Lavender, Rosemary, Eucalyptus, Thyme, peppermint and Lemongrass.
Eco friendly easy to carry 4oz bottle.
Can be used for people too. Do a patch test on your wrist as some people are allergic to certain plants. You can spray your hands and rub on your dog's coat and paws.
Available Sizes: (click on size/price for details)