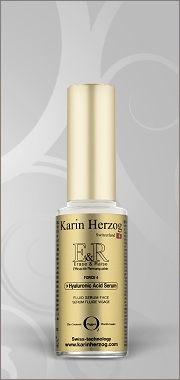 This serum can be used every day and as often as you wish. It is your defence against aging, from your mid-thirties and throughout your life. Used by itself, 'ER' gives highly satisfactory results.

However, combined with the 'Vita-A-Kombi' anti-wrinkle cream from Karin Herzog, the results are even more spectacular. This is why: thanks to its stabilised oxygen content, when 'Vita-A-Kombi' comes into contact with the skin, it releases 2 molecules of water for each molecule of oxygen. Then the Hyaluronic Acid combines with this large volume of released water and fills the intercellular spaces, thus ensuring wrinkle-free skin!



Not only that, thanks to the patented 'Vita-A-Kombi' formula, the Vitamin A in this cream is acidified by the oxygen beneath the skin, thus providing the raw material essential for the natural formation of collagen. Hyaluronic Acid and collagen are vital for maintaining the structure of the skin layers. Collagen ensures that the skin remains firm, while the Hyaluronic Acid nourishes and moisturises the collagen.

Now you know: the combination of 'ER' and 'Vita-A-Kombi' is a remarkably effective weapon against advancing age and the formation of wrinkles.
Available Sizes: (click on size/price for details)