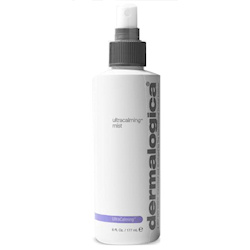 Now from the skin health experts at Dermalogica comes UltraCalming the first system to contain proprietary UltraCalming Complex for relief from multiple pathways that lead to skin sensitization. In clinical studies, UltraCalming yields up to a 30% reduction in redness.

A soothing, hydrating mist that quickly relieves sensitivity while helping to calm redness, stinging and aggravated skin. Contains no artificial fragrance or color.

Contains Dermalogica exclusive UltraCalming™ Complex to help reduce sensitivity, redness, irritation and inflammation. Helps condition skin to prepare for proper moisture absorption.
Available Sizes: (click on size/price for details)