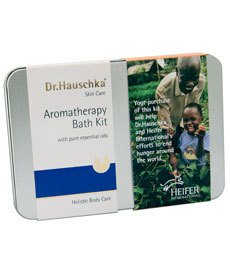 A minimum 25% of the sale of this travel/trial kit goes to Heifer International to help end hunger around the world (maximum donation of $100,000). Features trial sizes of our five luxurious aromatherapy baths &ampndash Lemon Bath, Lavender Bath, Rosemary Bath, Spruce Bath and Sage Bath &ampndash in a handy metal tin. Pure essential oils combined with sulfated castor oil disperse readily in bath water for a mood-altering experience.
An ideal introduction to our Bath Care line
Luxurious Aromatherapy Baths make an ideal gift.
Features a variety of pure essential oils to energize, relax or soothe.
Add a few drops to a basin for a face wash or foot bath.
Available Sizes: (click on size/price for details)