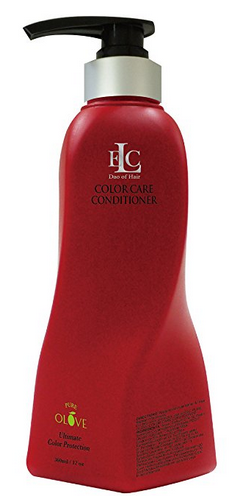 ELC Pure Olove Color Care Conditioner 12 Ounce Is a Color Safe, Moisturizing, Nourishing, Balanced, Repairing, Gentle Cleansing Conditioner for Colored, Fine, Medium and Coarse Hair. For All Hair Type
Leaves hair shiney and silky touch.
Features:
1.Kiwi extract is rich with Vitamin C and high in potassium.
2. Make dry, damaged or colored haiir reach the seal-in moisture state.
ELC PURE OLOVE Color Care Conditioner Brings you color back to life by sealing the cuticle and locking color deep in that hair shaft. If you have a high percentage of grey, have brunette hair color or red hair color a color care conditioner is an absolute must. The Rich botanical and natural formula gives your hair the luster and body it deserves without weighing it down. Certified Organic Olive Oil is the backbone of this formula. The highly moisturizing formula is great for highlighted, bleached, damaged and over processed hair types. Rebuild the cuticle keep color from going down the drain every day with the ELC Pure Olove Color Care Conditioner. Key Ingredients: Certified Organic Olive Oil D-Panthenol, Coconut Oil Borango Seed Oil Silk Amino Acids Nettle Extract Pure Olove products are rich in Certified Organic Olive Oil, Natural Botanicals and other beneficial oils, many are sustainably sourced from rainforests.A special blend of these natural ingredients provide remarkable healing and moisture repair on all hair types including fine hair. We have created many products with a unique blend of Olive extract and D-Panthenol that creates fullness without ever drying out the hair, in fact fine hair will be hydrated, healthy, shiny and full bodied!
Available Sizes: (click on size/price for details)