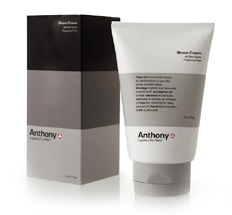 Allergy Tested
Fragrance-Free
All Skin Types
OBJECTIVE A smooth shave for the first time in your life, a truly smooth shave.
STRATEGY: Lightly coat face with smooth stuff: eucalyptus oil to heal, squalene to lubricate, aloe vera gel to soothe, an infusion of hops (do not drink) to relax, a bunch of vitamins to nourish-A, B5, C and E.
METHOD OF USE: Wash face, apply a thin layer to same. Shave. Rinse off. Follow with Astringent After Shave or Toner.
WHY IT WORKS? Natural moisturizing oils soften and lubricate the beard, helps provide a close shave. No Benzocaine so you can&ampacirc&ampeuro&amptradet over-shave. Shave Cream washes easily off the blade.
Available Sizes: (click on size/price for details)