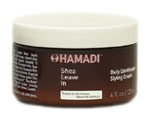 hea LeaveS-in - Essential Oils: Lemongrass, Exotic Verbens, Ylang Ylang and Lavender. As a light
conditioner, moisturizes and adds shine without
being too heavy. Leave the hair pliable and
texturized. As a versatile cream creates soft
natural looks and enhances curl. Leaves no traces
of starchiness or stickiness. Also straightens and
shines. Naturally occurring sunscreen in shea
butter protects hair and scalp from harmful rays.
Available Sizes: (click on size/price for details)