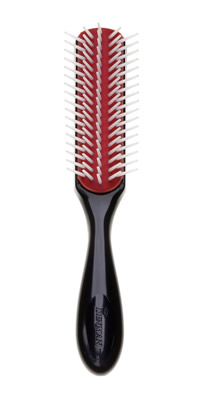 E TRADITIONAL STYLING BRUSH #D14 (For Controlled Styling): Brushes that are suitable for all hair lengths and types.
Anti-static red rubber pads with close-set white nylon pins provide maximum grip and control for smoothing, shaping and
polishing the hair. Denman #D14
Purse size. Five widely spaced rows of close set pins. Light, compact size will not pull or
stretch set or natural curl. Best for short or fine hair.
Available Sizes: (click on size/price for details)