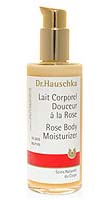 Rose Body Moisturizer-It is ideal for dry, sensitive or easily irritated skin. This soothing cream is gently enough for babys skin. Rose petals extracted in almond oil, help strengthen and bring a feeling of warmth to the skin.

Ingredients:

Water peanut oil shea butter marshmallow extract beeswax st johns wort extract rose wax rose petal extract rose hip extract essential oils lecithin avocado extract.
Ingredients:
Water extracts of: rose hip, rose petal, quince seed, carrot sweet almond oil alcohol glycerine shea butter jojoba oil cetearyl alcohol rose wax essential oils of rose and others propolis wax lecithin xanthan gum.
Available Sizes: (click on size/price for details)