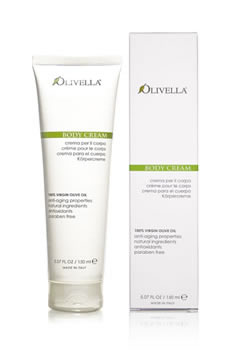 A Virgin Olive Oil cream for body skin care, characterized by a light texture with a refreshing effect, highly nourishing, emollient, hydrating and elasticizing, with high absorbtion.

With humid hands rub gently the bar soap emulsifying the product for face and body hygiene.
USE: Apply on a daily basis, gently massaging the area you wish to treat. Par ticularly intended for dry or cracked skins. It is easily absorbed leaving a pleasant feeling of freshness and comfort.
Available Sizes: (click on size/price for details)