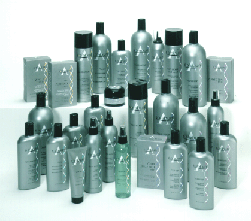 Nucleic-a Hair Care Products, A division of Zotos
Nucleic-A
Nucleic-A is formulated to help restore and maintain your hairís correct balance of protein and moisture by supplying the natural elements that enhance hairís structure and physical makeup.
Amino acids are the basic building blocks of the keratin protein that help replenish strength back into damaged hair. What makes the Nucleic-A range so unique is the introduction of nucleic acids that are major components of DNA and RNA chains in the body. Just like amino acids, nucleic acids are part of the composition of keratin protein. However, they are much smaller in size and shape, and as such, can reach deeper into the hair and help strengthen and repair the smaller damaged sites that are so often overlooked. All Nucleic-A products contain specially blended amino acids and nucleic acids to help restore the correct balance of protein and moisture, strength and body are renewed with each application of every Nucleic-A product. By adding both amino and nucleic acids back into the hair, Nucleic-A products are able to reform total hair structure much more effectively so you canÖ.Reveal your Beauty through Science.